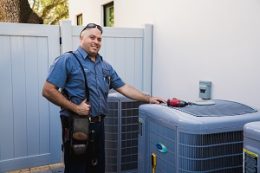 Good news! Most compressor problems are preventable. If you want to avoid expensive air conditioning repair service, you need to read this. Keep reading to learn the eight reasons compressors malfunction and what you need to do to prevent a breakdown.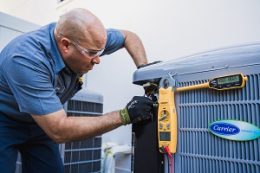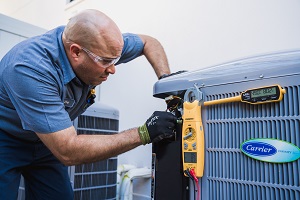 How often do you have professional HVAC maintenance? If you're like most people, you probably can't remember the last time you had this service done. However, heating and cooling companies recommend yearly maintenance to improve your HVAC unit's efficiency and decrease energy costs. Keep reading to learn more about how yearly maintenance keeps your costs in check.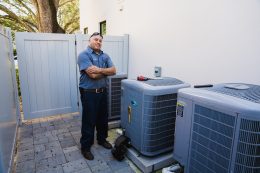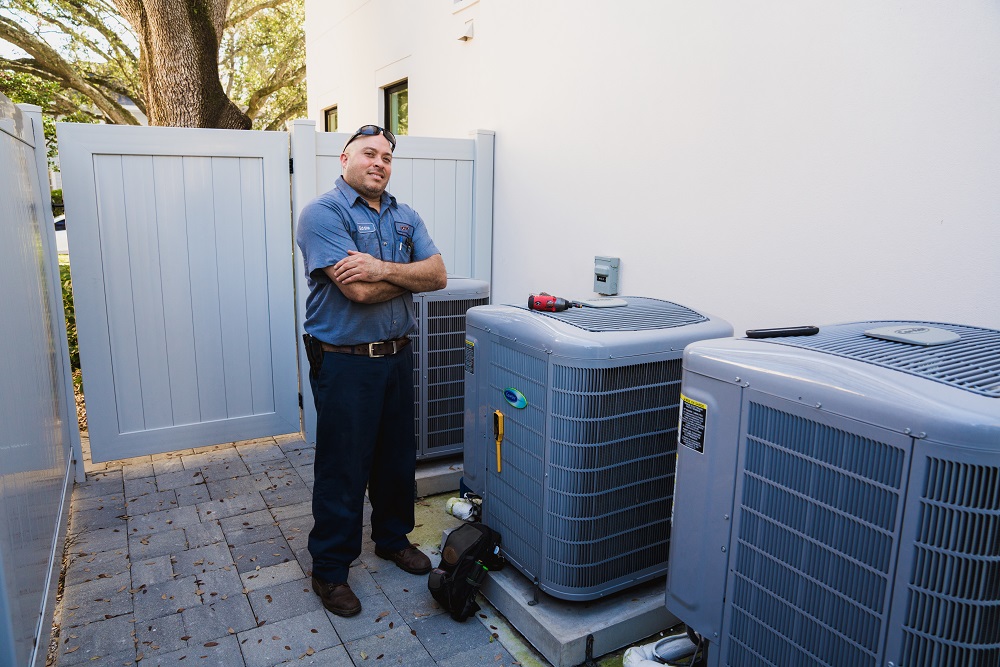 Have you wanted more control over temperature at your home? One way to keep your home at a comfortable temperature with less fuss is to install an automated temperature control system. This smart home gadget lets you keep your temperature at optimal levels, and when used correctly it lowers your energy costs. Keep reading to learn more about the top three advantages of using a temperature control system.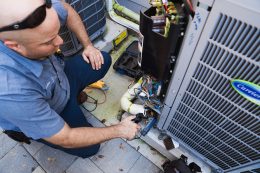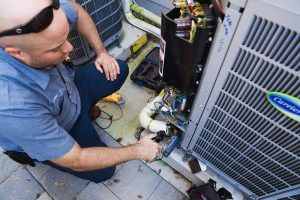 With Summer headed our way, you're almost guaranteed to have hot and humid weather. The hot weather is sure to increase the energy your AC uses to cool down your home and this will lead to higher utility bills. Taking the time out to be proactive with your AC system and perform routine maintenance can make a difference in how well your AC operates. Here are four ways to minimize strain on your AC system.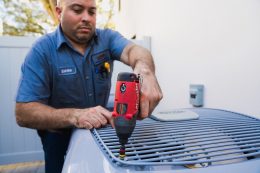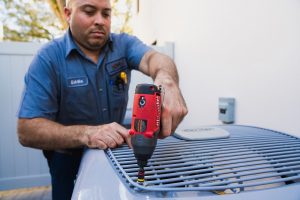 Summertime comes with plenty of benefits, like sweet seasonal foods and family vacations. However, it's also the hottest time of the year, the time in which it will be absolutely necessary for you to crank up the air conditioner and set your temperatures low. But is your air conditioner ready for this sort of treatment? Can it handle an entire season, and even the first few weeks of fall, running all day and night?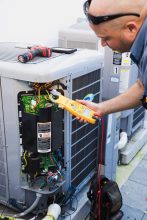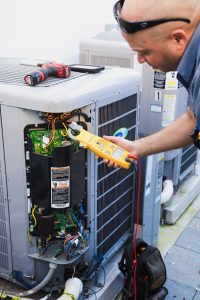 Summer is officially here. If you're like most homeowners, hot weather means using the air conditioner more and getting more expensive energy bills. However, you're not powerless to the whims of the electric company; there are steps you can take to make your AC unit more energy-efficient. Use the tips below to get started.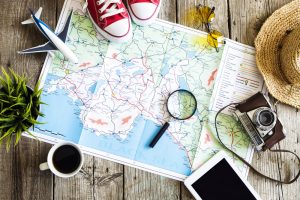 The car is loaded up with suitcases, the kids are strapped in and you're ready to embark on your summer vacation. You have all the ingredients for a great trip, but is your home's HVAC system prepared to sit unattended while you're gone? Check out this helpful HVAC checklist before you head out.
Turn the thermostat up about 10 degrees, but don't turn it completely off. Humidity can build up in your home with no cool air or air circulation, leading to problems like mold and mildew. Keep your system running occasionally while you're away to prevent these issues.
Install a programmable smart thermostat, if possible. This is ideal if you plan to take a longer vacation. With a programmable or smart thermostat, you can set it to start cooling your home to your desired temperature just before your arrival.
Install surge protectors for your HVAC system. If you live in a climate where summer storms are common, surge protectors can safeguard your system against dangerous lightning strikes that cause power surges that damage your electronics while you're away.
Open all vents. Make sure all rooms of the house have open vents for good air circulation. You may also want to open all doors to keep air flowing through your home.
Check air filters and change if needed. Before going on vacation, check your HVAC system's air filter. In the summer, dirt and debris can build up faster; you may find yourself needing to change the filter more often. A clogged air filter can cause problems you don't want to come home to, including increased energy bills and frozen condenser coils.
Latch and lock all windows and doors, and check for cracks and leaks. While you want good airflow indoors, you don't want hot outdoor air coming in. If you suspect a leak coming from a window seal or under a door, remedy the leak before leaving for your trip.
Close all curtains and blinds. Keeping blinds shut and curtains pulled can lower the indoor temperature of your home. If you have open windows with no covering, consider installing a light sheet while you're gone.
Inspect the exterior AC unit. Check your exterior unit to make sure it's clear of leaves, dirt and debris that may be restricting airflow. Examine the inside and outside of the unit and clean as needed.
Check the weather. Checking your local weather before leaving for vacation can help you better prepare your home. Whether the weather is hot and muggy or dry and mild, it'll affect how you set your thermostat.
Make sure your HVAC system is clean and well-maintained. Do an overall checkup on your HVAC system to be sure it's in good working order. Schedule an HVAC inspection to make sure your system is running efficiently.
Before you head out for summer vacation, call the heating and cooling professionals at Cox Heating and Air today to schedule your annual HVAC system inspection.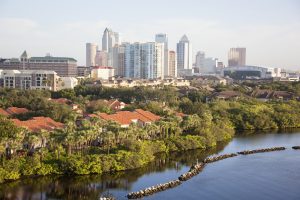 There's no doubt about what season it is when summer arrives in Florida. You know it's here when you encounter the mosquitoes, humidity and blistering heat. Although you may feel tempted to stay inside from June through August, there's no need. Let Cox Heating & Air Conditioning show you some helpful ways of beating the heat.
Time Your Outings
The sun's rays are strongest between 10 a.m. and 2 p.m., so your risk of sunburn is greatest during these hours. However, that's not actually the hottest time of day. Summer temperatures peak between 3 and 4 in the afternoon. Fortunately, this is also when afternoon thunderstorms show up, so you have a good excuse for packing up and heading inside until you can go back out to enjoy the rain-cooled air.
Dress Smarter
Finding the right clothing to wear can be tricky. It's hot outside, but most houses and businesses have air conditioning, so it's possible to go from 95 to 75 degrees in just a few steps. Try dressing in layers that you can remove and put on easily as the temperatures change. Look for breathable fabrics like cotton and linen, and opt for loose-fitting clothing that lets air circulate between the material and your skin.
Make Some Waves
As water dries on your skin, it helps draw heat away from your body, so take advantage of beaches, water parks and swimming pools to cool off and have some fun. Summer is a good time to try out watersports like kayaking, wakeboarding and tubing or to relax in a leisurely river or lake. Many cities also have splash fountains in public parks. Or, join the kids for a quick romp through your sprinkler.
Stay Hydrated
When it's hot, you sweat. When you sweat, you lose important fluids your body needs. Don't wait until you feel thirsty to stop for a drink of water. You should sip water throughout the day and consider sports drinks to replenish electrolytes if you're exercising or doing heavy yardwork in the sun. This doesn't just help you beat the heat; it may save your life.
Put Stay-cool Gadgets to Work
From personal fans with water misters to umbrella hats and cooling neck wraps, there are plenty of gadgets designed to cool you off. They do work, even if they look a little funny. You can also make your own cooling devices with items you have at home. Fill a spray bottle with water and peppermint tea as a cooling body mist. Put damp washcloths and hand towels in the freezer for wrapping your neck, arms and legs when you need a quick cool-down.
The key to enjoying your Florida summer is finding ways to stay cool, and one of the best ways to do that is with your air conditioner. Cox Heating & Air Conditioning can help. Contact us today to inspect, repair or replace the air conditioner in your home or office.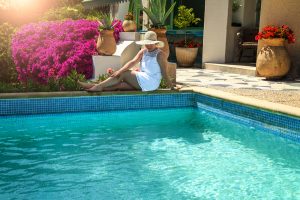 The last thing you want to experience during the dog days of a searing Tampa summer is your AC going out. But the warmest months have arrived, and that means it's prime time to ensure your AC system runs strong all season long. Here's how to get started.
Get a Seasonal Inspection
If you didn't schedule an HVAC inspection at the start of the warmer season, that's a great first step. Or, if it's been a few months since you last used your AC unit, it's smart to get an inspection from a licensed professional, too. This ensures your AC unit is in working order and ready to handle the demands of the summer heat. After your unit earns a clean bill of health, you simply need to maintain it with cleaning and fresh filters throughout the summer.
Use Clean Air Filters
A clogged air filter can put unnecessary strain on your HVAC system and can lower your AC's energy consumption by 5 to 15 percent. You also need to change your air filters more often during the summer months — you'll be running the AC more often, so set a reminder to check your HVAC system's filter at least once a month.
You may also want to switch air filter types or sizes in the summer. Fiberglass filters are the cheapest but have the lowest MERV ratings (which measure how effectively an air filter removes particles from the air), while high-efficiency filters are the most expensive and most efficient. If you don't have allergies or need a pricey filter, the best overall choice for summer is a pleated filter. They're inexpensive and can capture smaller particles for longer periods of time without affecting the airflow of your system.
Weatherize
Weatherizing your home for the summer can save money on cooling costs, ensure your HVAC system remains efficient and reduce energy consumption. You can weatherize effectively by:
Adding caulking around windows and doors to keep cool air from escaping

Replacing worn weather stripping under doors

Hanging up window treatments

Insulating electrical outlets

Installing fans
Maintain Your Outdoor Unit
Many homeowners forget the essential part of the HVAC system: the outdoor unit. It pulls in outdoor air to cool and pump through your home. Outdoor condenser coils can become dirty or blocked, so keep the area around the coil clean and make sure foliage is trimmed back at least 2 feet from the intake to avoid blocking the airflow.
To complete a simple cleaning, power down the unit and:
Remove the protective metal case

Vacuum or brush off the condenser fins

Wipe the fan with a damp cloth

Spray the fins from inside out with a hose

Reassemble the unit
The soaring Tampa temps can bring unpleasant conditions if your home isn't prepped to beat summer's heat. Schedule a seasonal inspection with the licensed professionals at Cox Heating and Air Conditioning to get your HVAC system in order for one cool summer.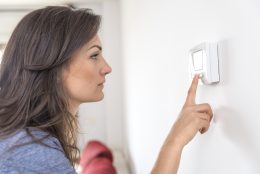 As Tampa temperatures rise, keeping your home cool and comfortable becomes increasingly important. But climate control at home isn't always easy, especially if you live with family members who have differing air-temperature preferences. If setting the thermostat for your air conditioning leaves you feeling battle-weary, these tips for winning the war over the thermostat will help.
Go Green
Save some green while keeping your home cool, dehumidified and at a moderate temperature that even family members who mind the cold can withstand. The U.S. Department of Energy recommends setting your air conditioning to 78 degrees Fahrenheit while you're home and to higher temperatures while you're away for maximum energy efficiency. Programmable thermostats make it easier than ever to operate HVAC systems efficiently, and you can set them to adjust the temperature before you come home so your air conditioning feels comfortable when you arrive.
Use Fans Strategically
Using ceiling fans lets you raise your HVAC system's thermostat setting by approximately 4 degrees without sacrificing comfort. This is particularly important when you live in a home with family members who have varying air conditioning preferences. You can keep the thermostat set at 78F to keep everybody happy, and anyone who likes things cooler should have a ceiling fan. The wind chill effect fans provide minimizes the need to crank the air conditioning up.
Layer Up
Some people naturally mind the chill of the A/C, while others find temperatures above 75F too warm. How do you win? Everyone can dress appropriately for his or her comfort. Wearing lighter clothing helps keep people who mind the heat cooler, while anyone who's always cold should consider wearing light layers to keep warm without heating up everyone else in the house.
Chill Out
Do you mind the heat? There are ways to keep cool without changing your air conditioning settings. Examples include:
Filling a bowl with ice or ice packs and positioning it in front of a large fan for chilled comfort
Switching to light, breathable cotton sheets
Swapping your pillow for one filled with buckwheat hulls, which don't retain body heat like traditional pillow fillings do
Turning on exhaust fans to pull hot air out of the house after showering or cooking
Warm Up
Likewise, if you find yourself always feeling chilly, you can warm up your personal space without touching the thermostat. Examples include:
Keeping the door to your room closed to prevent the bulk of the air conditioning from flowing in
Sticking with warmer bedding like flannel sheets and a cozy quilt
Opening your window at night to let the ambient temperature in — just be sure to keep your door shut and close the window before the hottest morning hours
No matter how you prefer to set your air conditioning temperatures, keeping HVAC systems in tip-top shape improves your unit's efficiency and extends its life. Visit Cox Heating & Air Conditioning to learn more or to schedule an appointment today.