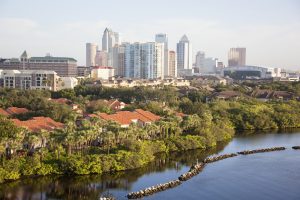 There's no doubt about what season it is when summer arrives in Florida. You know it's here when you encounter the mosquitoes, humidity and blistering heat. Although you may feel tempted to stay inside from June through August, there's no need. Let Cox Heating & Air Conditioning show you some helpful ways of beating the heat.
Time Your Outings
The sun's rays are strongest between 10 a.m. and 2 p.m., so your risk of sunburn is greatest during these hours. However, that's not actually the hottest time of day. Summer temperatures peak between 3 and 4 in the afternoon. Fortunately, this is also when afternoon thunderstorms show up, so you have a good excuse for packing up and heading inside until you can go back out to enjoy the rain-cooled air.
Dress Smarter
Finding the right clothing to wear can be tricky. It's hot outside, but most houses and businesses have air conditioning, so it's possible to go from 95 to 75 degrees in just a few steps. Try dressing in layers that you can remove and put on easily as the temperatures change. Look for breathable fabrics like cotton and linen, and opt for loose-fitting clothing that lets air circulate between the material and your skin.
Make Some Waves
As water dries on your skin, it helps draw heat away from your body, so take advantage of beaches, water parks and swimming pools to cool off and have some fun. Summer is a good time to try out watersports like kayaking, wakeboarding and tubing or to relax in a leisurely river or lake. Many cities also have splash fountains in public parks. Or, join the kids for a quick romp through your sprinkler.
Stay Hydrated
When it's hot, you sweat. When you sweat, you lose important fluids your body needs. Don't wait until you feel thirsty to stop for a drink of water. You should sip water throughout the day and consider sports drinks to replenish electrolytes if you're exercising or doing heavy yardwork in the sun. This doesn't just help you beat the heat; it may save your life.
Put Stay-cool Gadgets to Work
From personal fans with water misters to umbrella hats and cooling neck wraps, there are plenty of gadgets designed to cool you off. They do work, even if they look a little funny. You can also make your own cooling devices with items you have at home. Fill a spray bottle with water and peppermint tea as a cooling body mist. Put damp washcloths and hand towels in the freezer for wrapping your neck, arms and legs when you need a quick cool-down.
The key to enjoying your Florida summer is finding ways to stay cool, and one of the best ways to do that is with your air conditioner. Cox Heating & Air Conditioning can help. Contact us today to inspect, repair or replace the air conditioner in your home or office.