Heating Services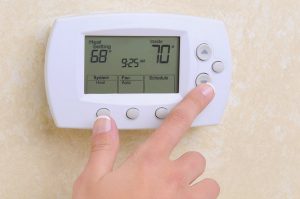 Cox Heating & Air Conditioning is an expert heating contractor, providing a broad range of heating services to our valued customers. As part of our comprehensive lineup of heating and cooling services, our heating repair, maintenance, and installation offerings are just one part of the commitment we make to keep our customers' homes and businesses comfortable year round. When the weather turns brisk and that winter chill is in the air, you'll be relieved to know you have Cox Heating & Air Conditioning's NATE-trained technicians in your corner to troubleshoot, repair, maintain or replace your current heating system.
Heating Repair
A heater malfunctioning on a cold winter night is one of the worst things that can happen to you. But, with Cox Heating & Air Conditioning, a heater malfunction that may start out feeling like a minor disaster will soon be just a memory, with your comfort restored and your initial worries put safely to rest. Anytime, day or night, our heating repair specialists will be standing by for your call. Even while in the field, our technicians are always in contact with our home base, ensuring that you'll receive the help you need as quickly as possible. Whether you set up a standard appointment or find it necessary to call our 24-hour emergency repair line, we are the heating contractor who will expertly repair your heater, regardless of make or model.
Heating Maintenance
Cox Heating & Air Conditioning recommends a complete checkup/tune-up for your heating system before the cold weather hits. You'll find this service to be money well-spent, since it will help you avoid unnecessary repair costs, while increasing your comfort and improving your system's overall efficiency. A more efficient system will bring you long-term benefits in the form of lower utility bills month after month. Regular routine maintenance can also extend the life of your system, saving you a substantial amount of money over the long term. Another wise investment in maintaining your HVAC system consists of cleaning your system's air ducts, since this convenient service offers one more key way to maximize the value of your equipment by making room air more breathable and thereby further improving your family's comfort.
Heating Installation
When maintenance simply isn't enough, Cox Heating & Air Conditioning offers guidance to help you navigate the maze of new systems on the market today. We carry a comprehensive lineup of top-quality, high-efficiency heating systems – including gas and oil furnaces, boilers, heat pumps, mini-splits and packaged systems – and our technicians have the expertise to help you select the one that's best for you. We then provide the professional installation services that help you enjoy renewed comfort without delay.