Is a smart HVAC system the right choice for your home? If you want to use your home's resources more efficiently, then the answer is a resounding yes. However, smart heating and cooling isn't just about installing a smart thermostat. These high-tech heating and cooling systems offer homeowners many more benefits than controlling the air temperature automatically. Keep reading to learn more about why more and more people are installing Smart HVAC systems in their homes.
Save Money on Utility Bills
This is the most obvious benefit of smart heating and cooling systems. How much money can you save on your utility bills? It depends on the system you're switching from. Homeowners with older, less efficient systems will see the greatest savings on their utility bills. Ask your heating and cooling specialist for their professional advice to choose a system that will fit your home and save you the most money.
Increased Comfort
How many times have you or other family members disagreed about the temperature in the home? Wouldn't it be nice to make everyone happy?Smart HVAC systems have a unique feature that allows for zoned heating and cooling. Every room in the house can have a different temperature setting to make sure everyone is comfortable.
Remotely Control Your Heating and Cooling
Smart systems sync with your phone or tablet so you can control your heating and cooling remotely. This is a convenient feature that makes fall and spring temperatures tolerable. How many times have you left the house in the morning, only for the temperatures to drop by the afternoon, making it likely you'll come home to a cold house? With remote heating and cooling control, you can adjust the temperature to warm or cool your home before you walk through the door.
Smart HVAC systems are also great for vacation homes. If you rent out your vacation property, you can turn on the heat or air conditioning before your guests arrive. This saves money because you don't have to heat and cool the home when it's not being used.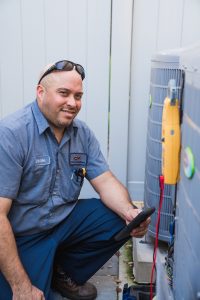 Increase Your Home's Value
When you decide to sell your home, a new HVAC system is always a great selling point. However, installing a smart heating and cooling system puts you one step ahead of the competition. Buyers want energy-efficient homes. A smart system is a wonderful selling point for any home, but if you have an older property that's been nicely renovated, a smart HVAC system is icing on the cake.
An Eco-friendly Choice
The more efficient your HVAC system runs, the fewer carbon emissions it emits. It's easy being green!
Are You Ready to Install a Smart HVAC System?
Contact your local heating and cooling specialists to help you choose the right-sized unit for your home. Purchasing a system that's too big or too small will affect how well the new system works for you. Call the pros at Cox Air at 727-442-6158 with all your questions and to schedule heating and cooling services.