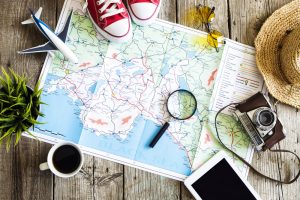 The car is loaded up with suitcases, the kids are strapped in and you're ready to embark on your summer vacation. You have all the ingredients for a great trip, but is your home's HVAC system prepared to sit unattended while you're gone? Check out this helpful HVAC checklist before you head out.
Turn the thermostat up about 10 degrees, but don't turn it completely off. Humidity can build up in your home with no cool air or air circulation, leading to problems like mold and mildew. Keep your system running occasionally while you're away to prevent these issues.
Install a programmable smart thermostat, if possible. This is ideal if you plan to take a longer vacation. With a programmable or smart thermostat, you can set it to start cooling your home to your desired temperature just before your arrival.
Install surge protectors for your HVAC system. If you live in a climate where summer storms are common, surge protectors can safeguard your system against dangerous lightning strikes that cause power surges that damage your electronics while you're away.
Open all vents. Make sure all rooms of the house have open vents for good air circulation. You may also want to open all doors to keep air flowing through your home.
Check air filters and change if needed. Before going on vacation, check your HVAC system's air filter. In the summer, dirt and debris can build up faster; you may find yourself needing to change the filter more often. A clogged air filter can cause problems you don't want to come home to, including increased energy bills and frozen condenser coils.
Latch and lock all windows and doors, and check for cracks and leaks. While you want good airflow indoors, you don't want hot outdoor air coming in. If you suspect a leak coming from a window seal or under a door, remedy the leak before leaving for your trip.
Close all curtains and blinds. Keeping blinds shut and curtains pulled can lower the indoor temperature of your home. If you have open windows with no covering, consider installing a light sheet while you're gone.
Inspect the exterior AC unit. Check your exterior unit to make sure it's clear of leaves, dirt and debris that may be restricting airflow. Examine the inside and outside of the unit and clean as needed.
Check the weather. Checking your local weather before leaving for vacation can help you better prepare your home. Whether the weather is hot and muggy or dry and mild, it'll affect how you set your thermostat.
Make sure your HVAC system is clean and well-maintained. Do an overall checkup on your HVAC system to be sure it's in good working order. Schedule an HVAC inspection to make sure your system is running efficiently.
Before you head out for summer vacation, call the heating and cooling professionals at Cox Heating and Air today to schedule your annual HVAC system inspection.