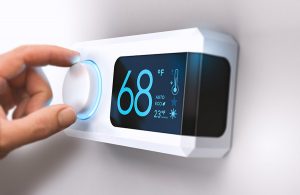 Recent advances in indoor air quality have really made a difference in recent years and not just for allergy sufferers. As homes and businesses become more energy efficient, they can also trap stale air along with the particulates and pathogens it carries. Carrier has a complete line of equipment that completes any HVAC system that performs a variety of functions to capture dust and pet dander as well as disinfect air before it is circulated. Whether adding to your existing HVAC system or designing a complete heating and air conditioning system for a new or existing building, Cox Heating & Air Conditioning experts can help you incorporate the latest technology for superior indoor air quality.
Latest Technology for Indoor Air Quality
The Air Knight REME Air Purification System
There's a simple device that's easy to install on any residential HVAC unit. The Air Knight REME is a device that uses UV light to kill bacteria and viruses both in the air and on any surface. The device also eliminates odors from food, pets, and furniture giving your home a fresh and healthy smell. Large hotel and restaurant chains, cruise ships and hospitals worldwide rely on this technology to provide the best possible indoor air quality available today. Call Cox Heating & Air Conditioning today to learn how inexpensive and effective the Air Knight REME is.
Air Purifiers
Investing in top quality air filters and changing them as directed goes a long way towards improving indoor air quality, but an air filter alone cannot enhance indoor air quality to the extent that the Carrier Infinity®, Carrier Performance and Carrier Comfort air purifiers do. In addition to capturing dust, pet dander and other particulates, they also have Captures & Kills™ germicidal technology that disinfects the air ridding it of bacteria, viruses and other pathogens.
Ventilators
Circulating outdoor air in is especially important in air tight buildings.  Staying energy efficient in the process is simple with a Carrier Performance™ Series Heat Recovery Ventilators.  Especially important in Florida's humid west coast, this equipment introduces fresh air that is clean and dry.
Carbon Monoxide Detectors
It's rare to find a home or business today without smoke detectors, but how many of us don't go the extra step to prevent carbon monoxide poisoning? This odorless and silent killer makes headlines more times than we would like to think about. And, it's completely preventable. Keep your family safe with a simple device that monitors for this gas and alerts you when CO levels are dangerous to humans. The Carrier Carbon Monoxide COALM technology protects with air quality updates every 15 seconds.