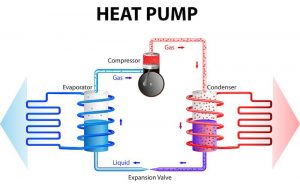 According to the U.S. Department of Energy, in moderate climates, heat pumps offer highly efficient heating and cooling. There are many other compelling reasons to consider having a heat pump installed in your home. Here are four major perks.
1. Useful Year-Round
Heat pumps aren't just an excellent heat source during the winter. They also come in handy during the hot summer months. When the weather is warm, your unit will move warm air out of your home. When the weather gets cold, it will pump warm air into your home. While these units aren't well-suited to cold northern climates, they are ideal for Florida winters that are chilly yet not too cold.
2. Lower Utility Bills
Heat pumps use less than half as much energy as a typical HVAC unit or furnace saving you money on your heating and cooling costs. If you want to keep your home at a comfortable temperature without spending too much on your energy bill, then this device is your best bet. They are particularly ideal for chilly spring days when you don't want to spend a lot of money to run a heater but it's not quite warm enough to turn off the heater altogether.
3. Eco-Friendly
Heat pumps don't just conserve energy. They are also very eco-friendly devices that drastically reduce carbon emissions. Because these units simply move heat around, they don't need to use fossil fuels.
4. Available for Installation Now
Air conditioning and heating companies are not as busy now as they tend to be during other times of the year. If you want quick installation service to suit your busy schedule, then schedule an installation appointment before the beginning of spring.
5. Have Many Options
There are now more heat pump options available than ever before, making it easy for you to choose the one that suits your exact needs and budget. Cox Heating & Air Conditioning offers Carrier heat pumps in all types and sizes. Not only are these top-quality products, but you'll also enjoy unbeatable service and installation.
If you want to save money on energy bills, help the environment and keep your home at just the right temperature year-round, then installing one of these high-quality units should be at the top of your priority list. Now is a great time to do so. Contact Cox Heating & Air Conditioning at your convenience to learn more about your options, costs and installation services or to have one of our skilled technicians come to your home and offer personalized recommendations.