Are you having problems with your home's air conditioning system? Many people in this situation try to save money by attempting DIY air conditioning repair. However, do-it-yourself AC repair isn't something that professionals recommend. Keep reading to learn more about how why it's always better to hire licensed HVAC specialists for all air conditioning repair jobs.
Air Conditioning Systems Are Complex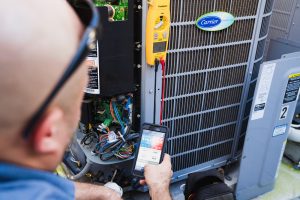 You might have found a great YouTube tutorial that seems to show you exactly what you need to do to fix your air conditioning problem. It looks easy, right? The problem with those kinds of instructional videos is that they don't take into account all the possibilities that could be wrong with your system.
For example, does your air conditioning unit keep tripping the breaker? Because you don't have the training that an HVAC professional has, you might think all you need to do is change the breaker. So, you look up a tutorial to change the breaker, and the fix doesn't work. Now, you've spent money on a part you didn't need, wasted time fixing something that wasn't broken, and you still don't have air conditioning.
Air Conditioning Repair Requires Special Tools
Depending on the problem, you'll need more tools that what's in the average DIYers' toolboxes. Some of these tools aren't even available at your local home improvement store, and if they are, you might not know how to use them. Professional HVAC contractors have all the tools, the equipment, and the know-how to make efficient repairs that ensure your air conditioner problems go away.
Access to Parts
Sure, you can find air conditioning filters at your local home improvement store. You might even find an AC capacitor at the hardware store, but that's about all you'll find parts-wise at these stores. That's because air conditioners require specific parts that aren't available to the general public. Air conditioning repair companies must order these parts from the manufacturer or, in some cases, wholesale distributors. So, although the YouTube video might make it seem easy to install the part, you have to find it first, and that can be the most challenging part of the repair process.
Don't Give Up Your Valuable Time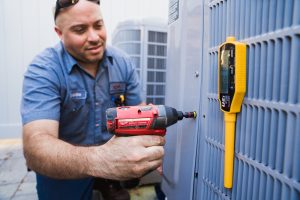 People are busy. Between work, family activities, and countless other responsibilities, there's very little time in one's day to get it all done. Add a home repair into the mix, and you could lose more time without seeing any results.
Does professional air conditioning repair cost money? Yes, it does, and sometimes those repairs are costly. However, you're paying for expertise and peace of mind. You know that the job will get done right the first time and you'll be cool and comfortable in your home. Peace of mind and time are worth the money you pay for professional air conditioning services.
If your air conditioning isn't working and you need repair services, Cox Air has the tools, the expertise, and the availability to help you today. Call the local pros at Cox Air in Clearwater, FL, at (727) 442-6158.