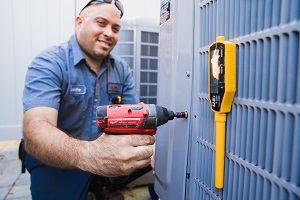 It's recommended that you check on your HVAC system every spring and fall. This allows you to know before summer and winter whether or not your AC and heating are in excellent shape. Work through a spring checklist for your AC before summer arrives.
Outdoor
Your outdoor unit may have been covered for the winter. Remove any coil blanket, lids, or condenser covers before using your AC unit. Operating the unit with those intact could result in serious damage.
Look at the panels. If they're out of place, misaligned, damaged, or missing, you should have a technician inspect the system. It may need to be cleaned or repaired.
Remove any debris. Depending upon your environment and the placement of the unit, it's possible for vegetation, dirt, or other debris to get inside of the unit. This can easily harm its ability to operate at peak capacity, and it might lead extra repairs.
Repair or replace any pipe insulation that looks rotten or damaged. The pipe insulation protects heat transfer and preserves the coolant. Without adequate insulation, your system will be far less efficient and effective, which may result in a higher energy bill and could overwork your unit. An overworked unit is far more prone to needing repairs or maintenance.
Indoor
Replace the filter. Your indoor air filter is one of the most basic yet essential components of your HVAC system. It should be replaced regularly to ensure the efficiency of your unit and to protect your indoor air quality.
Check the coil's drainage hose, which may be called the condensate line. Make sure that it's in its proper place and that the drain tray has room for the addition of condensation. Drain it of any moisture if needed. If it overflows, it can damage your unit.
Inspect the vent and grills. They should be open and free of any debris. You may need to clean them. Use a wet and dry vacuum to vacuum and eliminate any dust or other buildup that could block the airflow.
Last Steps
Turn on your AC to check if it's working right. Make note of any noises or odors. These are indicators of maintenance issues. If it seems to be in working order, you should be in good shape for the coming months.
If you encounter any unexpected noises or smells, contact a technician to inspect and repair the AC. It's best to address any maintenance needs quickly. Allowing your system to go without care and attention will only lead to costlier and more serious repair needs in the future. It could even lead to needing a new unit.
Follow this short and simple checklist each spring. You'll be more comfortable and confident in your AC unit's health and performance if you do. If you want to be certain, contact the professionals at Cox Air. They can inspect your system and ensure it's working correctly.