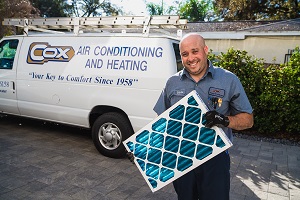 Your AC air filter is an important part of your HVAC system. When it gets dirty, you can face a greater incidence of asthma and allergies. Additionally, your AC has to work harder to pull air through the filter, which causes more wear and tear on the entire system. In the worst-case scenario, the air filter can fail and allow dust and debris to get into your system to cause more immediate damage. A dirty air filter will shorten the life of your HVAC system and necessitate an expensive replacement before you may be ready to deal with the cost. How do you recognize when you need to replace the air filter? Check out these signs.
Expiration Date
Every air filter comes with a designated life span, usually about three months. If it's been longer than three months, it's time to change the air filter. However, outside factors can lessen the life span of the air filter. If you have construction sites near you or live on a major road, your air filter will have to try to remove more debris than it can handle. Some locations require that an air filter be changed every month.
Hiring an HVAC company to provide you with AC service can help you keep tabs on when you need to replace the air filter. The number of visits from the HVAC company will be determined by a service contract. Include changing the air filter in the contract, and you won't have to worry about when to change it because the HVAC company will do it for you.
Getting Dusty
If you keep your house clean, you might start noticing more dust. When the air from the AC is pulled through a dirty filter, more dust gets through and finds its way into your home. It will settle on furniture and the carpet, and you'll notice the difference when you clean. For businesses, make sure the cleaning staff is aware that they should tell you if there is a change in the amount of dust they find when they clean. A large increase in dust also may mean that your HVAC system's ductwork needs to be cleaned. Be sure to check your air vents for cleanliness.
Energy Bill Spike
If you see a spike in your energy bill without a corresponding rise in actual usage, you may have a dirty air filter. You can expect summer bills to be higher than winter bills for a variety of reasons, but, if you've been using your system in the same way and the weather has maintained its normal temperature, your air conditioner may be working harder to compensate for a dirty air filter. You also may want to check your air vents and make sure that they are opened and unblocked. Furniture or boxes covering a vent could cause your system to work harder. For all of your AC needs, contact Cox Air today to find out how they can help you with your air conditioner.