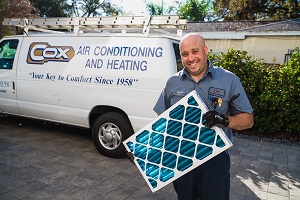 When it comes to regular HVAC maintenance, for many homeowners it's a matter of "out of sight, out of mind." Your AC unit is by far one of the hardest working appliances in your home, but it's usually the last one you think about. Regular maintenance is essential to help your unit run at its best year-round. Keep reading and learn more about the advantages of a yearly maintenance plan from the professionals at Cox Air.
Benefits of a Maintenance Service Plan
There are several advantages to enrolling in an annual HVAC maintenance plan including lower energy and repair costs. Just like changing the oil in your car, your HVAC unit needs regular maintenance and fluid checks to stay in top form. Regular maintenance also prevents major breakdown and costly emergency repair by spotting problems before they happen. An experienced technician can diagnose that strange knocking sound coming for your unit and replace parts as needed before they do more damage to your system. Preventative maintenance will reduce your chances of catastrophic failure when you need your system the most.
In addition to saving money on energy and emergency repair costs, regular maintenance also extends the life of your HVAC unit. Just like a check-up with your doctor helps keep your health in check, regular tune-ups keep your HVAC system running smoothly. While some manufacturers offer warranties on their systems, some of those warranties are contingent on your enrollment with a maintenance company. If you're installing a new unit, check with the manufacturer about their warranty policy and save money on replacement parts and services by taking advantage of a professional maintenance plan.
What the Professionals Look For
A trained HVAC expert will do a full system check when they come for your annual inspection. They will make sure the thermostat is calibrated correctly, so you don't waste money on inaccurate temperature reading. They will check all your electrical connections and cables for any voltage waste that could be driving up your utility bills. They carefully apply lubricant to moving internal parts that are hard to reach. This reduces the chances of failure due to friction and overheating. They also look for things like cracks in your furnace and leaks from your gas lines that could pose a serious health risk to your family.
What You Can Do Yourself
There are several things you can do to help keep your unit running at its best. One of the easiest ways to save on energy costs and increase air quality is to change your air filters on a regular basis. Air filters trap dust, dander, and airborne particulate as it passed through your return vent. Filters should be changed at least once every 90 days or once a month if you have pets or severe allergies. Changing your air filter also reduces drag through your system. Your air handler has to work harder to move air through a clogged filter, so save money on energy costs and change your filters on the first day of the season or the first day of the month. For more tips to keep your HVAC unit running smoothly, contact the experts at Cox Heating & Air Conditioning.