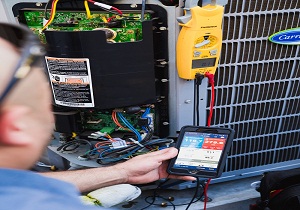 When it comes to people, there are two types. One faithfully switches out the furnace filter at the start of each season. The other, when asked, isn't sure if the filter was changed last year or the year before. Chances are neither has had an HVAC inspection this year. Even though the HVAC system is one of the most important in the home, getting it inspected on a regular basis seems like it's hit-or-miss for many homeowners. If that's you, you're not alone. Many people figure if the system turns on and heats or cools, everything is fine. It's not too late to start caring for your HVAC system. Here are a few tips designed to help you figure out how often yours should get an inspection.
Do I Really Need an HVAC Inspection?
Yes, you do! HVAC inspections give you a report about your home's heating and cooling systems. The inspection lets you know how well the system is functioning. The HVAC specialist who does the inspection looks for signs that the system needs repairs. An inspection can even save lives, so, yes, it's one of those things that comes with living in a home.
What Does an HVAC Inspection Include?
An HVAC inspection is a complete testing of your home's heating and cooling equipment. The inspection should check the following:
Air filter
Blower components
Airflow
Equipment condition
Condenser and evaporator coils for air conditioning units
Heat exchanger, ignition, and burner assemblies
Venting and clearances
Combustion air
These are just a few things checked during an HVAC inspection. Your technician will go over everything they look at and discuss any repairs, if needed.
Inspect the Furnace Annually
You're doing great if you change the filter on a regular basis, but a professional inspection should be done at least once each year. The furnace is a workhorse, and just like the other workhorse appliances in your home, it requires preventative maintenance. A yearly inspection helps detect problems before they become expensive. Yearly furnace inspections also help keep you and your family safe.
Best Time for the Furnace Inspection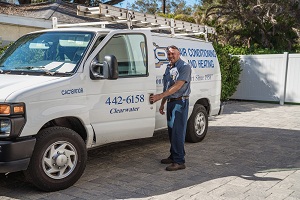 If you haven't had your yearly inspection yet, it isn't too late. The best time is before you turn it on for the first winter use. Yes, winter! Even beautiful and sunny Florida sometimes gets chilly in the winter. As soon as outside temperatures start getting cooler, it's an excellent time to schedule your HVAC inspection. Ideally, you want the inspection done before turning the furnace on for the first time. This ensures the system is safe for the cooler months.
What About My AC?
In Florida, the AC gets quite a lot of use, so it also needs a yearly inspection. Even though it's part of the HVAC system, there are components of the cooling system that are only used when you're cooling the indoor air. For example, your AC uses refrigerant while the furnace doesn't. An HVAC inspection before the arrival of summer ensures refrigerant levels are normal. The technician also tests for leaks, measures airflow, and examines belts to make sure they're not loose or worn.
Scheduling regular HVAC inspections, one before summer and one before winter, gives you the confidence that you'll enjoy comfortable mornings, days, and evenings, regardless of the weather outside. Set up your inspection today by contacting Cox Heating & Air Conditioning. Visit https://coxair.com today to get started.