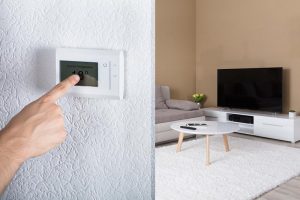 It's a great day when the weather warms up enough to turn off your furnace until next winter. However, it's not as simple as flipping a switch and assuming that's the end of it. There's more to do once you stop using the furnace for the winter.
Here are five crucial tasks that to take care of when turning off your heat this spring.
1. Change Your Filters
Your furnace filter needs to be changed at least once every 90 days. In fact, you may need to change it once a month if someone in your home has allergies, asthma and/or other respiratory problems. Pet owners also need to change their filters more often than the average household. Dirty filters don't only pollute the air inside the home, but they can also cause dust to settle in your ductwork.
2. Check the Thermostat
The thermostat switch should be set to auto rather than on. If you leave it on, your HVAC system's blower will keep running even though the furnace is off. This setting not only wastes energy blowing air that has not been cooled or heated, but it can raise the humidity level in your home as well for the same reasons–the air you are circulating has not been cooled or heated.
3. Turn Off the Gas
If your furnace is an older model that has a standing pilot light, be sure to turn off the gas so that it is not used up by a pilot light that does not really need to be on at this time of the year.
4. Check Your Carbon Monoxide Detectors
Furnaces are one of the leading causes of carbon monoxide poisoning. To avoid the dangers of being exposed to potentially deadly carbon monoxide in your home, it is imperative to have a good carbon monoxide detector installed near your furnace. Because you probably won't take a close look at your furnace again until you turn it on next winter, check your carbon monoxide detector while turning off the heat to make sure it is in good working order.
5. Have the Furnace Serviced
Most heating and cooling companies advise consumers to have the furnace serviced during the fall, right before you turn it on for the winter. However, the truth is that it can actually be hard to get quick service at the same time everyone else is calling local furnace companies for an annual tune-up. Have your system carefully checked and cleaned well in advance to avoid the last-minute rush of finding a contractor who can provide the service you need at a time that is convenient for you.
At Cox Heating & Air Conditioning, we have been in the heating and cooling business for well over half a century. We offer a variety of services and new products for homeowners who want to upgrade to a new furnace or HVAC unit. Contact us today for expert advice and service from one of the company's many NATE-certified technicians.