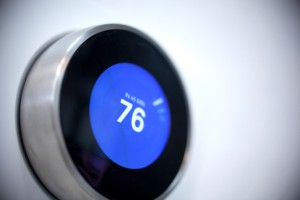 A programmable thermostat differs quite a bit from a traditional one. Instead of setting the thermostat manually, you pre-set the thermostat's program to what temperature you want the house to be during what time frame. The thermostat takes over at this point, handling the temperature changes automatically. A homeowner can override and set the temperature manually when needed.
Efficiency Counts
Here is some guidance for setting and using your programmable thermostat for maximum efficiency:
Program the thermostat to change temperature when no one is at home and when people are sleeping. Dropping the temperature during winter and raising it during the summer can lead to a noticeable drop in energy bills. The best thing is that in most cases, no one will know that it happened.
When you plan to be away for more than a day or two, set the thermostat to vacation mode. Set it to 55 degrees in winter and 80 in summer. This keeps your cooling/heating bills lower, yet keeps the home in a zone where excessive cold or heat won't become a problem.
Install the thermostat in a spot on an interior wall, away from sunny windows, drafts and cold spots. This keeps the thermostat running efficiently without being influenced by disrupting factors.
If someone is home at an odd time (staying home ill, taking a day off, etc.), use the temporary temperature setting to adjust the thermostat. That way, when the next programmed time happens, the system will go back to normal.
Cranking the heat up to 90 or the air conditioning down to 60 will not make your ideal temperature happen any faster. Once you program the thermostat, leave it alone and let it do its job.
Programmable thermostats can help you save on your home energy use. However, unless you program yours properly, you won't see the savings you should. For more information on the benefits of a programmable thermostat and your HVAC system, please contact us at Cox Air Conditioning & Heating. We have proudly served our neighbors in Tampa, Clearwater and St. Petersburg since 1958.
Image Provided by Shutterstock.com